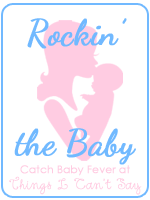 Not too long ago, we were rockin' the belly over at
Shell's Blog
..now we're rockin' the babies! I love being pregnant..but I can't help but look at the glow on that first time pregnant mom's face and think, "You have no idea what you're in for!" Sure, it's great being a mom, but we all know it's the hardest job that you'll ever love! So, on a positive note, at least when I'm old and grey, and the teenagers are driving me crazy, I'll have these sweet faces to look at!
Landon at 3 Months..look at those chubby cheeks..he was definitely my good baby..probably why he was first..so I'd have more! He loved to eat and sleep and hardly ever made a peep!
Nixon..my challenge (to this day!)..he is so sweet but 100% boy..who knows why he's my middle child..he didn't do well with his formula..he had colic..it's a miracle we had #3! But look at this face..how can you resist pinching those cheeks?? (5 Months)
Who doesn't love a good oreo?
He's loved his "babies" since Day 1...he still does this with it now when he's tired!
And finally my Lily girl...she's definitely high maintenance like any girl should be..but overall she's been a great baby..especially since she's finally getting her napping schedule figured out..girl loves to eat and sleep just like her oldest brother, which makes momma and daddy happy! Just a couple weeks old here..
My sweet baby girl...
I absolutely love my babies and I love being a mom..even when they're driving me insane..I can't wait to see them grow, but at the same time, I want them to just slow down!